E-mail with SPAM filtering Powered by USFamily.Net - 98+% Effective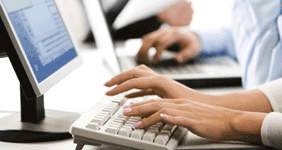 Don't put up with SPAM in your inbox
USFamily.Net E-mail only service includes the industry's most effective spam protection technology (patents pending). The big national providers claim up to 85% in spam reduction or more commonly that it is an impossible problem. Meanwhile USFamily.Net members continue to have the best protection at the best price. We presently stop over 1,000,000 spam emails a day sent to our customers and our performance improves each day through our AI (artificial intelligence) technology.
USFamily.Net e-mail is included with our Telephone and Internet Bundles, or dial-up service. If, however, you have switched to an alternative Internet Service Provider, you can continue to use your USFamily.Net E-mail address including the SPAM filtering that you have come to know and enjoy.
USFamily.Net E-mail service includes
98+% Effective SPAM filtering. SPAM can be blocked or sent to your inbox "flagged" as SPAM.
New sender authentication which authenticates e-mail as legitimate, further preventing SPAM.
Whitelist and Blacklist capability.
Out of Office reply.
No e-mail size or volume limits.
E-mail can be downloaded to multiple devices such as a computer, laptop, tablet and smart phone using our multiple views setup.
Webmail access is available for temporary or traveling purposes.
Private mailboxes available to accept mail only from pre-selected e-mail addresses - perfect for kids.
Standard Pricing

| Plan | Features | Price |
| --- | --- | --- |
| E-mail Only Standard | Includes 1 e-mail address | $1.99/mo billed annually |
| E-mail Only Deluxe | Up to 5 e-mail addresses, Free Personal website (100MB) | $3.99/mo billed annually |
Please note, your email address is included within the cost of your dial-up or DSL service from USFamily.Net.

You only need to sign up for this service if you would like to add additional email addresses to your account, or if you are switching to another Internet Service Provider.